Is Telephone Voice Recording A Real Job?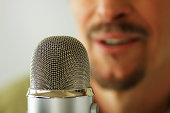 Yes! With the right skills and tools, you'll have the ability to make a comfortable living doing telephone voice recording.
The annual income of a voice actor changes considerably from one individual to another and from year to year. When you are just getting started most of what you bring in from telephone voice recording should be re-invested into your training, studio time, demos, and publicizing your portfolio. When you start to compile a list of customers, you will see your earnings begin coming in and you'll actually become sought after, as your past work will speak for you.
3 Reasons Why Telephone Voice Recording Jobs Are Great
1. Flexibility
The type of talent displayed for one job may not necessarily be what is required for another. Each job will be autonomous as you might be required to sound breezy in one recording or normal in another. This flexibility will help expand your portfolio and job possibilities.
2. Steady Work
After much training and practice, snagging your first job may be the hardest part. Once you start to build your portfolio you can be relaxed, knowing that there will be a steady supply of jobs. As a company's telephone voice recorder, you will be with them for the long haul. This might mean years of constant work, some that may involve regular revisions (which you invoice for), and any upgrades they may need as the business grows and communicates with its clients by telephone. You may even weave your way into the company's other voice over needs like tutorials or videos used for training etc.
3. Comparatively Easy Recordings
Telephone voice recording jobs are relatively easy to do, with great pay. Unless you're recording a lengthy phone prompt with hundreds of sub-prompts, the majority of your work won't exceed a few minutes. Basic phone recordings have less than 250 words, and sometimes as much as 500 words.
Most phone system recordings are serious and informative, but you may even find some clients who wish a comedic or character voice over.
Whether you are recording in-studio or from your own home, a telephone voice recording workshop must be a appropriate environment for recording clear audio that communicates with the customers. This connection is what will keep the client wanting more of your services. As a voiceover artist, it is possible to provide excellent services that will impress each and every one of your clients.